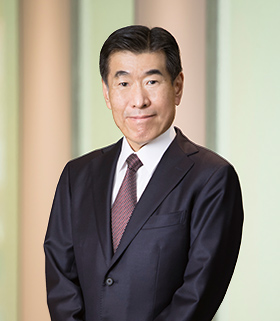 I would like to express my thanks to all our shareholders for their continued support.
Since our founding in 1970, we have taken part in resolving issues faced by clients and society at large. In 2020, commemorating the 50th year since our start, we renewed our guiding principles, honing our vision and mission.
We set off on our Medium-term Management Plan 2023 (MP2023) the same year. Under this plan, we are refining the value offered by our Think Tank & Consulting Services and Financial Solutions, the activities that comprise our core businesses; fortifying our policy-recommendation capabilities as a think tank; and conducting upfront investments in growth areas such as our digital transformation, subscription, and global businesses. We have centered the Group's management on our value chain, forging new pillars for business and sources for revenue. Our value chain doubles as our own process for creating value, and our work spans all phases from research and recommendations to the real-world implementation of solutions across fields such as human resources, mobility, and energy.
We achieved record-high revenues exceeding ¥100 billion in FY9/21, the first year of
MP2023, by successfully carrying out large-scale projects in strategic fields such as
digital transformation and AI-based simulations of Covid-19. With ordinary
profit of ¥7.6 billion and ROE of 9.1%, we are well on the way to achieving our goals
marked out in MP2023: ¥10 billion in ordinary profit and ROE of 10%.
Once again, I thank all our shareholders for their continued support of the Mitsubishi
Research Institute Group. We invite you all to join us on the next 50 years as we keep
working to better the world.
December 2021
Kenji Yabuta
President and Representative Director
Mitsubishi Research Institute, Inc.